RDC is the Perfect Place to Gather!
Rockywold Deephaven Camps is a perfect location in the Lakes Region of New Hampshire for large gatherings. In addition to the tranquil setting that is designed to create bonds and foster a shared experience, RDC has a number of lovely buildings that are well suited to reunions, retreats, workshops, lectures, meetings, weddings, and conferences. RDC is ideally suited for groups of people anywhere from 25 to 400.
Groups, Conferences & Family Reunion Rates
2020 Overnight and Meal Group Rates
2020 Overnight and Meal Group Rates

| Group size | Price |
| --- | --- |
| 25 – 99 | $178.00 |
| 100 – 199 | $163.00 |
| 200+ | $149.00 |
In 2020, discounted rates for our Group & Conference Season will be in effect from June 1 – June 26 and September 5 – September 19.
To qualify for Conference rates, your group must have a minimum of 25 overnight stays per night.
The conference leader will be responsible for payment to RDC of all overnight accommodations and other associated fees.
Overnight accommodation rates listed are per person per night and include three meals a day.
The rate for children 2 – 8 is 50% off the above rates. No charge for children under 2 years of age.
All rates are subject to 9% NH Rooms and Meals tax.
Rental of camp boat and driver (24 passenger boat) $165 per hour.
Daily boat rentals may be requested upon your arrival for an additional charge and will be delivered to your dock.
FACILITY INFORMATION – RDC has six meeting/function facilities:
The

Rockywold and Deephaven Dining Rooms

can be used for a wide variety of activities and events. Both the Rockywold and Deephaven Dining Rooms can comfortably seat 250 people.

The Playhouse

is a pavilion with a raised stage, suitable for entertainment, exhibits and dances. The Playhouse is adjacent to the ball field where special picnics and barbecues can be held.

The Long House

is a lodge situated on the Deephaven point providing spectacular views of the Squam Mountain Range and Red Hill. It has a common area that can accommodate up to 100 people theater seating, 75 people for receptions and 60 people for banquets.

Greenwood Lodge

is located on the Rockywold side of camp and provides views of the lake and its islands. The common area can accommodate 45 people theater seating and 60 people for receptions (using porches).

Deephaven Conference Room

is adjacent to the Deephaven Office. The room can accommodate 50 people in a classroom or theater setting.
RDC's larger cottages can also be used as small meeting facilities.
Although we try to ensure that all the rate information on our web pages is correct, please be advised that the rates listed here are subject to change without notice.
Events 2020
Yoga at Squam Lake: June 11 to June 14
Join Katie O'Connell and Dragonfly Yoga Barn for its 9th annual Relax & Renew Retreat at RDC.  
Find Out More
Energize and nourish your body and soul with four days and three nights of fun, yoga, kayaking, amazing food, friendship, lakeside lodging, loon calls and hooting owls, hiking, massage, tai chi, crackling fires, and so much more!  Do as much or as little as you like! All activities are included in your fee except massage therapy, which is available at additional cost. Early bird discounts are available. Full details are posted at www.dragonflyogabarn.com.
Drawing from Nature Each Wednesday from 2:00 to 4:00 pm
with Carol Jowdy: artist, educator and landscape designer  
Find Out More
This introductory to intermediate class includes sketching, painting and journaling to draw us closer to nature. It invites participants to explore the spirit of place through the lens of art using drawing, painting and design exercises. We'll interpret the land, gardens, field and forest in terms of light, shape, color, texture, and space. Class takes place in and around land and water at Rockwold-Deephaven Camps.
Class runs with 3 or more; 12 max. Adults and mature 10 years old and above.
Sign up by Sunday dinner at Rock and Deep Office, or in advance with Carol.
Meet at Deep Office for class 2:00 pm Wednesday.
Cost = $30. Per Person for 2 hour session: Paid directly to Carol Jowdy.
Bring: Sketch journal, pencils, color pencils, watercolor paint/pencils, or I can supply. For more information on supplies, and to sign up in advance, call or email:
Carol Jowdy at: cljowdy@yahoo.com
Writing Retreats: RDC provides the perfect setting for two great retreats this June.
The Squam Lake Novel Writing Retreat will be returning for its 4th session this summer on June 19 to June 22.
Amity Gaige, award-winning novelist, Guggenheim Fellow, Yale faculty member, and longtime RDC guest, will be leading the retreat.  
Find Out More
This retreat is different in that it is small (roughly 15 writers), and almost all attendees have other careers and families, and need inspiration and time to write. Says a previous attendee, "It's amazing how much meaningful exchange about reading and writing can be packed into one weekend, with hours left over for swimming, kayaking, hiking, and (literary) charades in the evening." Learn how to begin or complete your novel alongside aspiring novelists of all ages and backgrounds. Visit: amitygaige.com or send an email to: novelwritingworkshop@gmail.com.  
#SquamWrites will hold their second RDC retreat June 26 to 28.
At #SquamWrites, laughter spills into friendship and time together builds community.
Find Out More
This craft-focused weekend is perfect for experienced writers eager to build their skills with guidance from successful, seasoned industrial professionals in a beautiful environment and historic space. This year's mentors are Rebecca Podos and Ashley Hearn. Join us! Registration now open. More information available at: tiny.cc/squamwrites.
Squam Art Workshops
Creativity as a way of life
In June and September, Squam Art Workshops brings in many talented teachers for four days of creative classes nestled in the woods and along the lake!
Find Out More
Participants and teachers come from around the world and there are classes for all levels. Classes on knitting, stitching, crocheting, photography, writing, painting, sculpture and more are offered. Take part in one of our most colorful events - sign up at
www.squamartworkshops.com
.
Becoming an Outdoors Woman
This September, New Hampshire Fish & Game will be holding their Becoming an Outdoors Woman Conference at RDC for the 26th year!
Find Out More
Becoming An Outdoors Woman classes focus on the learning of outdoor skills usually associated with hunting and fishing, but useful for many outdoor pursuits.Designed primarily for women, it is an opportunity for anyone 18 years of age or older, looking for opportunities to learn new skills, improve or try their hand at new challenges. Spaces fill up quickly for this weekend event.
More information about this program can be found at the Becoming An Outdoors Woman website.
Peace of Mind Reiki will host its second Squam Reiki Retreat at RDC September 11 to 13.
"This retreat has restored and rested my body and soul. The nourishment I will carry with me always," noted a previous participant. All lineages ~ All levels welcome.
Find Out More
The history and beauty of, not only Squam Lake and the White Mountains that border it, but of Rockywold-Deephaven Camps themselves, will foster layer upon layer of enriching experiences. Adding to the location and an all-inclusive retreat will be the gift of sharing community with other Reiki trained individuals. Come together to explore, ignite and share Reiki and each other. Contact Leslie for more information and to register at
peaceofmindreiki@gmail.com
Physical Facilities
RDC has six facilities well-suited to a range of group functions, including family reunions, weddings, conferences, meetings, parties, plays, presentations, dances, and events of all types. We offer discounted rates for qualifying groups as well. No matter what event you're planning, we're sure that RDC is your perfect resort destination.
Both

Rockywold and Deephaven main dining rooms

can be used for various activities and events. Each can comfortably seat 250 people

RDC's Playhouse

is a pavilion with a raised stage suitable for entertainment, exhibits and dances. The Playhouse is adjacent to the ball field where special picnics and barbecues can be held.

The Longhouse Lodge

is situated on the Deephaven point providing spectacular views of the Squam Range and Red Hill. It has a common area that can accommodate up to 100 people in theater seating, 75 people for receptions, and 50 people for banquets.

Greenwood Lodge

is located on the Rockywold side of camp and provides views of the lake and its islands. The common area can accommodate 45 people in a theater arrangement and 60 people for receptions (using porches).

Deephaven Conference Room

is adjacent to the Deephaven Office. It can accommodate 20 to 30 people in a classroom or theater arrangement.
Group Information and Policy
The following is a summary of Camp procedures and information. To help make your visit the best that it can possibly be, please take the time to read the Guest Information Manual provided in each lodging facility.
Registration: Overnight guests must register at the Camp Office upon arrival. Payment is expected at this time.
Accommodations will be clean. Towels will be provided and beds made prior to arrival. Wood and ice are also delivered prior to arrival.
Alcohol: Alcohol is normally not allowed in Camp dining rooms or other common areas. We allow the responsible use of alcohol during early and late season group functions such as wedding receptions. Group function participants are expected to show consideration for fellow guests. RDC does not provide alcoholic beverages. The legal drinking age in New Hampshire is 21.
Boating: Guests may not harbor or dock a boat that has a motor above 25 horsepower at RDC. This rule has been established to contribute to the serenity and conservation of the lake and shoreline. We appreciate your cooperation regarding this matter, and thank you for your assistance in our stewardship of Squam Lake.
Flashlights are necessary to find your way around Camp after dark; therefore, be sure to carry a flashlight at night.
Gratuities: Guests may wish to reward employees for exceptional service; however, employees are paid with the understanding that gratuities are not required.
High heeled footwear does considerable damage to Camp's softwood floors and is dangerous for walking on RDC's rugged terrain. Therefore, we do not allow high heeled footwear in our facilities and strongly encourage the use of flat footwear on our property.
Ice Machines: Every cottage has an ice box containing ice harvested from the lake to be used only for refrigeration purposes. Guests should use processed ice cubes for consumption. Ice machines are located outside the dining room in each Camp.
Pets cannot be accommodated. Sorry! Kennels are available in the surrounding area:
Quiet Hours: Be considerate of fellow guests by observing our quiet hours from 10 p.m. to 8 a.m.
Smoking: SMOKING IS NOT ALLOWED IN ANY RDC BUILDING. Smoking is also prohibited in all common-use outdoor areas where children may congregate; such as the ball field, dining halls and main docks. It is the responsibility of all smokers to assure that their activity does not interfere with the rights of others to enjoy a clean, safe and smoke-free environment. All RDC employees adhere to a strict No Smoking policy on camp grounds.
Fireplaces: Please be extremely cautious when using cottage fireplaces. Do not leave a fire unattended. In an emergency, contact a staff person and/or one of the Camp Offices immediately.
Telephones/Internet Access: Pay telephones are located near each office in small buildings named "Ma Bell" (map's 40 and 93A). Wireless internet access is available at most of our guest accommodations. If your particular accommodation does not have access, the Ma Bell facilities and both Rockywold and Deephaven Offices can be used for wireless access.
Vehicles: We urge guests to park vehicles at the designated parking area nearest their lodging facility. Car use is generally unnecessary at Camp, since most activities are within comfortable walking distance for able-bodied individuals. Those who must drive are asked to do so with caution.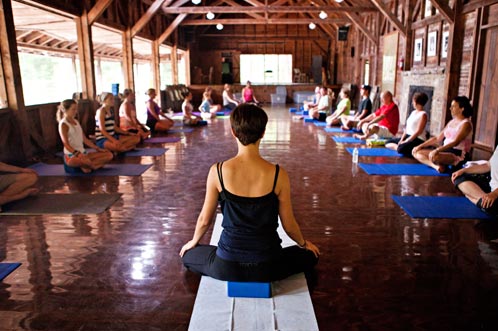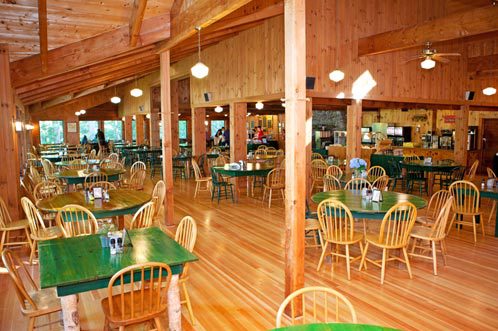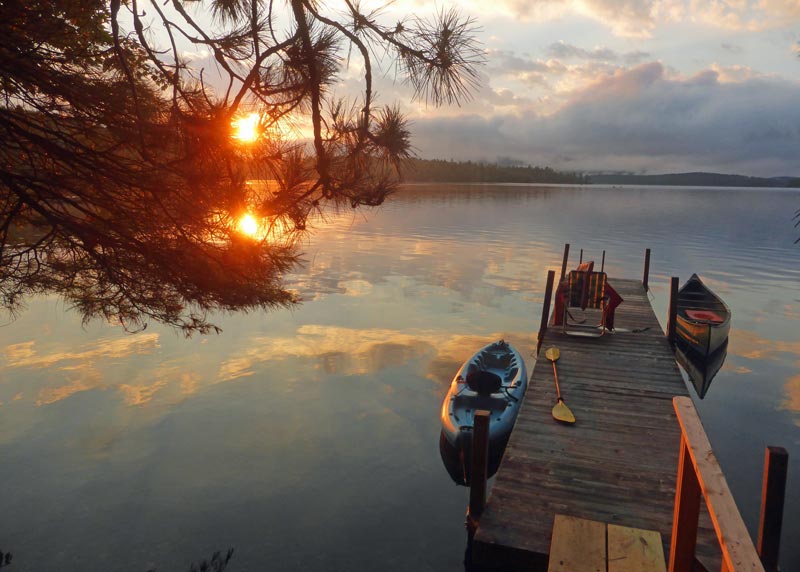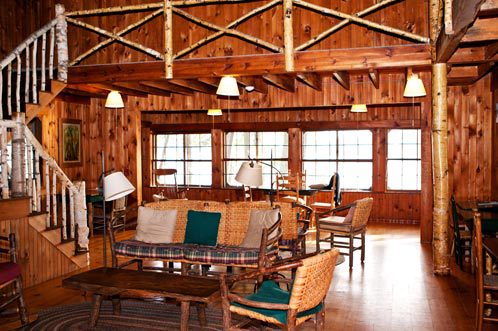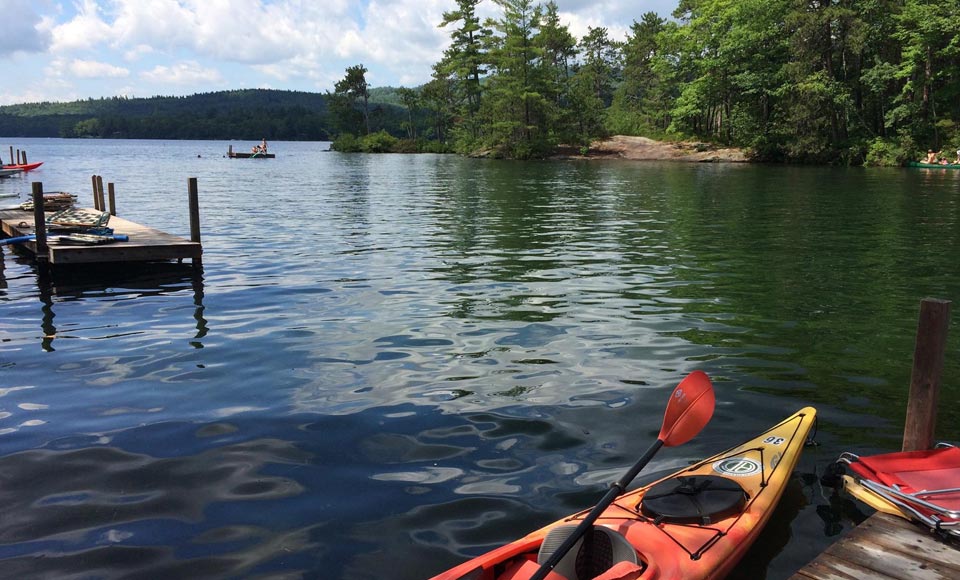 Once again our family has congregated at Rockywold. Over the 32+ years we have been coming here our family has returned for the wonderful camaraderie, peacefulness and rejuvenation of our hearts and souls in a time where so many families are torn apart, and at odds, we feel so fortunate to have this beautiful, safe haven to share in some of the most special and joyful occasions in life.
SQUAM LAKE SCENERY GALLERY