Employment Opportunities at RDC!
Employment Opportunities at RDC!
Dear applicant:
Thank you for your interest in employment with Rockywold-Deephaven Camps (RDC). A family vacation camp since 1897, RDC has been providing its guests with a unique family living experience offering rustic simplicity, quality services, and an unsurpassed natural setting.
Rockywold-Deephaven Camps are highly regarded by their guests, staff and the resort community. The Camps are proud of their traditions and quality services, but most important to the success of RDC is the friendly and accommodating nature of their staff toward their guests and each other.
RDC is an equal opportunity employer. We're happy you are interested in joining us and look forward to receiving your application. If you have any questions, please feel free to contact Alex Chelstowski, HR Director at 603.968.3313 ex. 215 or e-mail at alex@rdcsquam.com
RDC Employment Application:
If you would like to apply for a summer staff position, please fill out the form to the left.
You will also need 3 submitted reference forms. Please give your references this link, to fill out online:
http://www.rdcsquam.com/reference-form
You may also download the application and reference forms below and mail them to RDC.

Housekeepers
are responsible for the general care and cleanliness of camp cottages and support facilities - ensuring our guests a safe, relaxing, and enjoyable camp experience. Housekeeper duties include but are not limited to: thorough cleaning of cottages and common areas, bed-making, towel delivery, and checking for needed cottage maintenance and repair.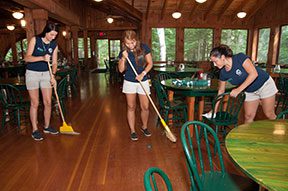 Laundry Staff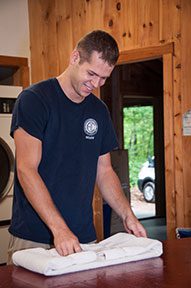 members are responsible for the daily operations of the Camp's laundry facility where all linens and towels as well as guest's laundry are cleaned.
Food Service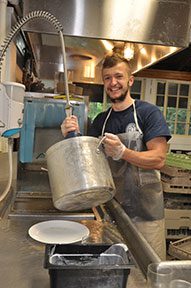 positions include wait staff, dishwashers, prep cooks, production manager and chefs for two camp dining halls. Food service employees also set up weekly picnics at the ball field.
Zodiac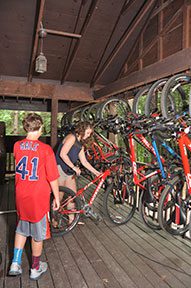 is RDC's game room and store for snacks, sundries and sporting goods. Duties include: recording bike rentals; communicating regularly with the Finance Manager to confirm accuracy of daily deposits and charges; keeping an accurate inventory of retail items, restocking when necessary; and monitoring activity in the adjacent game room.
Outside Crew
members are responsible for the delivery of ice and firewood to assigned cottages; tennis court maintenance, assisting housekeepers when necessary (e.g. moving furniture, picking up laundry, sorting trash and recyclables, etc.); general maintenance of camp grounds; and ensuring guests a safe, relaxing, and enjoyable camp experience.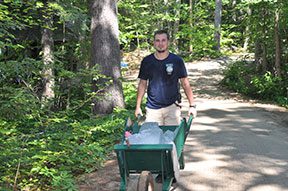 Wee Campers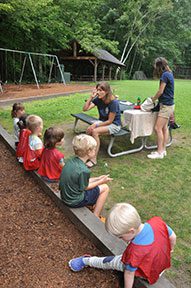 is a morning outdoor playgroup for children ages 3-5 years old. Together, the staff plans and organizes daily activities that introduce children to camp life and help them develop an appreciation for nature.
Recreation Committee
members are responsible for organizing, supervising and directing activities for guests of all ages. Camp activities include: tennis tournaments, organized games and sports, picnics, boat tours, hiking in the White Mountains, swimming and sailing events, talent shows, square dances and much more. Recreation staff applicants should enjoy teaching and working with people of all ages; possess skills and certifications related to the above-listed activities; be capable of driving a van and operating a commercial motor boat; be safety-oriented, highly motivated and enthusiastic; and possess a positive and flexible attitude.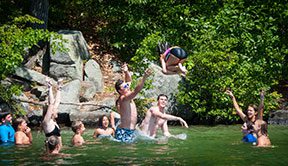 Office Staff
members are responsible for operating the camp offices in an accurate, informative, and friendly manner-- ensuring guests a safe, relaxing, and enjoyable camp experience. Duties include but are not limited to: responding to guest inquiries and requests, billing, maintaining arrival and departure records, and operating our computer database.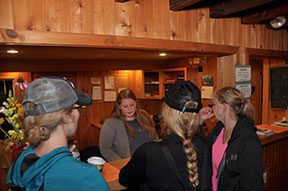 Harbormasters
are responsible for delivering rental boats to guest docks and maintaining safe boating at RDC. Duties include: delivering and setting up boats, performing routine maintenance and repairs, teaching basic boating instruction, pumping boat gas, tracking boat rental billing, and operating commercial boats.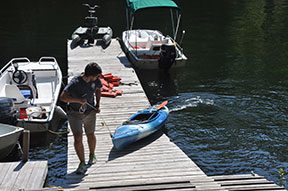 SQUAM LAKE SCENERY GALLERY