The View from Squam - our Blog
The View From Squam - our Blog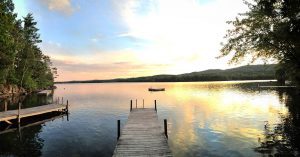 March 18, 2020
Dear RDC Friends,
Though an idyllic escape from the real world for generations, Rockywold-Deephaven is not immune to real world challenges. Along with other communities and businesses across the country, RDC is actively planning for the possible continued spread of COVID-19 so we can best protect the health of our staff, guests, and Camp itself.
What the new coronavirus will bring in the coming months is unclear.  As such, with national, regional, and local public health experts as our guides—including the World Health Organization,  Centers for Disease Control and Prevention, NH Health and Human Services, New Hampshire Lodging & Restaurant Association, and others—we're planning for a variety of scenarios. Each one places health and safety above all else.
We understand the unease that comes with uncertainty so we have updated our cancellation policy to allow cancellations up to May 31 with no penalty.  We will take further review of our additional cancellation policies in the coming weeks and are continuing to develop policies for the 2020 season.  Please know that both the staff and board of directors have the situation in sharp focus, and will keep you updated regularly on the RDC website as plans unfold.
We hope you and your family are healthy, and that we see you up at the lake soon.
Regards,
Kathy Wheeler, RDC General Manager
Tucker Richmond, President RDC Board of Directors
"We feel rooted within our own families as well as with those special friends we meet at this place. We are regenerated by Squam Lake's natural wonders-- fragrant pines, mountain summits, star-filled night skies, and haunting loon calls, to name a few.

Those of us lucky enough to spend some summer days at RDC share in a restful calm. We are certainly grateful for this unique place of simplicity and peace. I know we take this spirit with us when we leave Squam, counting the days until we can return".
SQUAM LAKE SCENERY GALLERY